The Nordic parking innovation solves bike-parking problems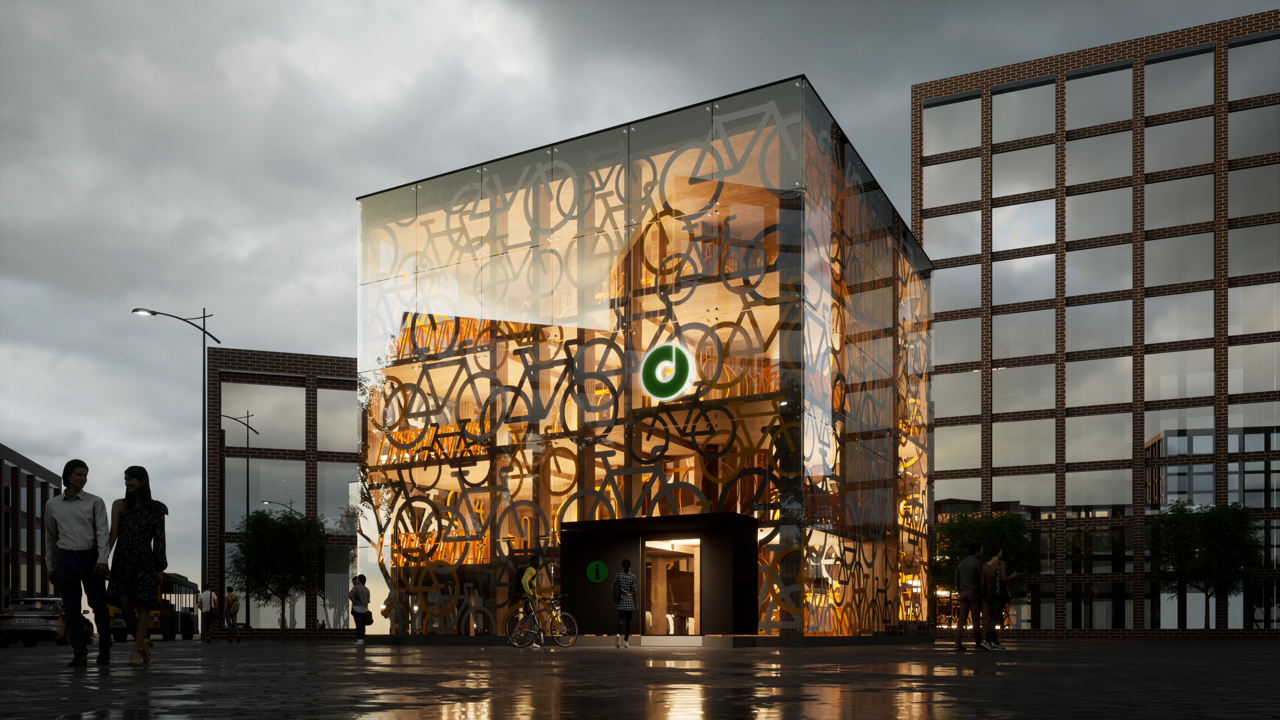 The idea for the award-winning Cyklon Nordic bicycle parking house was born in an apartment building project. Due to the exceptional features of the lot it was difficult to find storage space for the residents' bicycles. As a solution, architect Janne Helin with his partners developed the first prototype of Cyklon multi-storey bicycle parking house. The revolutionary design of the bicycle parking house enables the storage of up to 400 bicycles in a very compact space.
The bicycle storage facilities of apartment buildings are infamous for their overcrowding, chaos and bike thefts. Many residents have ended up taking their bikes to the safety of their own apartment.
At Cyklon Nordic and with architect Hanne Helin's help, the idea of an architecturally high-level multi-storey parking house was born. The user-friendly, easy-to-monitor solution is equivalent to the best parking facilities for cars.
"Cyklon parking houses utilize spaces more efficiently and free up public areas and residential apartment building basements other functions. Difficult-to-use and hard-to-reach bike shelters will be replaced by easy-to-use parking houses, where each bike has its own, numbered place," Helin says.
The light weight makes situating flexible
According to Henrik Lemmetyinen, the Operational Manager of Cyklon Nordic, Cyklon parking houses offer property owners and developers the opportunity for significant space and cost savings. For example, the Cyklon parking house can accommodate 50–400 bicycles in a space of 65–135 m2, while normally, for example, 400 bicycles require 580 m2 of space when built at ground level.
"The concept has attracted much interest. In addition to developers, many cities are considering Cyklon parking houses, for example in station areas, where parking bicycles and scooters causes a headache. Negotiations are also held with the headquarters of large companies," says Lemmetyinen.
Cyklon's main material is wood, which as a renewable building material stores carbon dioxide in the building throughout its life cycle.
The company has partnered with Stora Enso, which acts as a material supplier and also participates in product development. Stora Enso's production capacity and technical know-how bring a strong addition to Cyklon Nordic's product development.
"We at Stora Enso immediately got excited when we heard about the idea. This is yet another new way to show how versatile renewable solid wood elements are as a building material and how easy and fast it is to build with it. As a result of the cooperation, we were able to achieve a light but stable structure for the Cyklon parking house that is also easy to build," says Tomi Jussila, Sales Director of Stora Enso's construction solutions.
Cyklon bicycle parking houses are built from ready-made factory elements, so the site phase is fast and is not tied to the rest of the site's schedule. The light structure allows the Cyklon bicycle parking house to be placed, for example, on a multi-level terrace
Solar panels generate energy for electric bikes
Cyklon Nordic has developed specially designed Cyklon Stand bike racks for parking garages, which offer effective theft protection. A safe user experience is ensured by iLoq's high-quality smart locks and/or own UWB sensors. Additionally, the possibility to charge electric bikes has been taken into account.
"Housing companies should think about the fire safety of bike storage as electric bikes and electric scooters become more common. From a safety perspective, electric bikes should be charged in a space reserved for them and not in residential apartments," reminds Lemmetyinen.
It is possible to integrate solar panels into the Cyklon parking house, so it can also be used to collect solar energy. A green roof that acts as a carbon sink and heat balancer, as well as green walls or plantings can also be implemented in the parking house.